Effective Solutions for Prescription Forms
We are State Approved with Assembly Bill 1753
(The Serialization Bill)
Have a state not listed? Contact us today to have it added.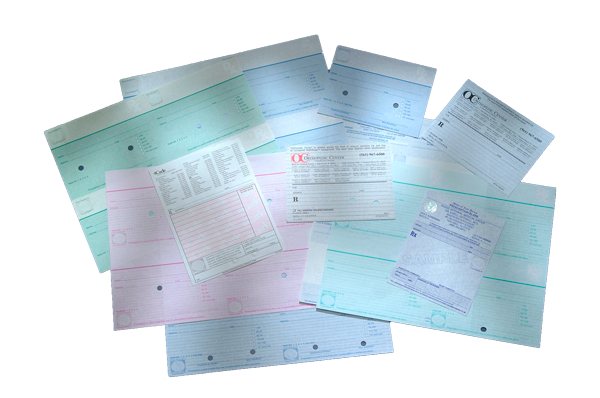 Medical forms and prescription pads are becoming a popular target and have dual risks of potential fraud. On one end, prescription drugs can bring criminals high dollar value on the street, on the other end are prescription abusers who see prescription form counterfeiting as an easy way to supply a habit. Secure Prescription Pads are being adopted not only by medical practices but also state governments who wish to control this problem.
ProDocumentSolutions has been an accredited producer of security prescription forms for many types of customers and produces secure medical documents that are easy to verify by any pharmacist. Through our online ordering site, physicians can fill out, proof, and order their prescription pads. We have script layouts that accommodate multiple physicians and addresses plus options for uploading your logo on a single physician prescription form. If you have a custom medical form or prescription pad in mind just contact us and we would be happy to look at your needs and give you a quote. Through our secure printing facility and patented technology we promise some of the best security you will find anywhere.
As of October 1, 2008 all Medicaid prescriptions must be written on tamper resistant prescription pads. While the guidelines aren't as strict as California it is a step to prevent prescription fraud. These tamper resistant prescription pads are to include a chemical sensitive substrate, VOID background, and an erasure evident property in the script body. Pro already has several designs running that comply with these requirements and of course many more that surpass these specifications.
Actual letter regarding Medicaid requirements:
The Centers for Medicare and Medicaid Services has outlined three baseline characteristics of tamper-resistant prescription pads. However, each State will define which features it will require to meet those characteristics.
To be considered tamper-resistant, a prescription pad must contain at least one of the following three characteristics:
one or more industry-recognized features designed to prevent unauthorized copying of a completed or blank prescription form;

one or more industry-recognized features designed to prevent the erasure or modification of information written on the prescription by the prescriber;

one or more industry-recognized features designed to prevent the use of counterfeit prescription forms.
States are free to exceed the above baseline standard as to what constitutes a tamper-resistant prescription pad.
The State of California currently uses tamper-resistant prescription pads for controlled substances which exceed the federal Medicaid requirement. California's current approved controlled substance prescription pads MUST be utilized for ALL controlled substance prescriptions regardless if they are Medicaid or not.
Click Here
for a PDF of the letter.
If you are a distributor interested in ordering pads for your customer contact us on how to get a price list and your login information to order.
If you are an end user interested in ordering CA prescription pads online simply pick an authorized distributor from our list.